Today, Grandma and I went to her Red Hat meeting! I got to meet all her friends there. They were all decked out in their purple shirts and red hats. Some had feather boas and scarves and lots of jewelry. Everyone was so friendly and talkative. I had a wonderful time.
I had to wear a pink hat, because I am under 50 years-old. We went to a mexican resteraunt here in Pueblo and they had a drawing for door prizes. As a guest, they let me pick the 4 or 5 names and the last name I picked was Grandma! She won some Red Hat earings.
It was so much fun, I would go again, but their next meeting is after I leave here.

Celestial Seasonings Tea Factory: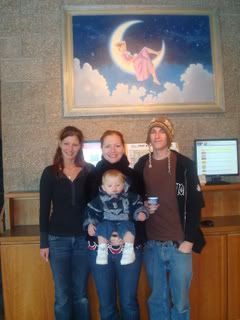 I did not get too many pictures in Boulder. We mostly did shopping, and the Celestial Tea factory did not let us take pictures there. But click HERE for what I did get.
The inside of the tea house: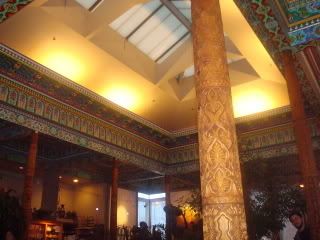 I talked to John today, and he is in the middle of the classes you have to take when you go to a new country's base to learn customs, get shown around, and get your driver's license for Spain. I cannot wait to go to that class. In a couple days, John goes to Cadiz, which if you remember from your Spain Geography Lesson is right accross the bay and is a larger town than Rota.