When Nino lived in California, he bought a dragon plant. It looks like an aloe, cactus sort of plant. When Grandma went to CO, and I came to CA, I took over most of his potted plants, including this one. From time to time, it would get big flower buds, but the next time I would see them, they would be wilted petals and stems.
That is because, the Moon, the flowers are her minions. They only open for the moon. And they close or die in the daytime.
Well, I have had this plant for almost 2 years now, and last night, I finally saw an open flower! It was so beautiful. It looked transluscent in the halloween lights on the balcony, but when I shined light on it, it was white with a lil yellow part in the middle. And it is big and smells very sweet.
I took a million pictures, but most did not come out, and none capture how cool it looked just chillin out there in the night.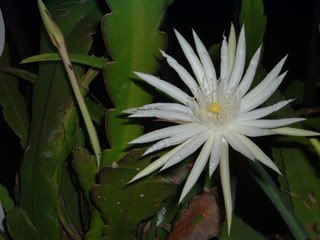 With Flash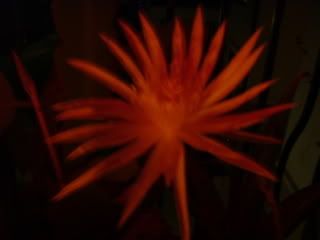 Without Flash


Candle-light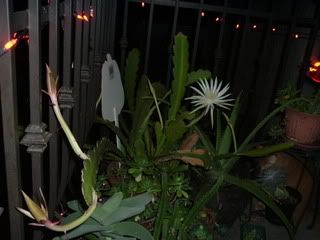 The new minion buds

The next day: all closed up