While we are tapping our feet and paws waiting to get to our new home, let's take a moment to remember who will not be going to Spain.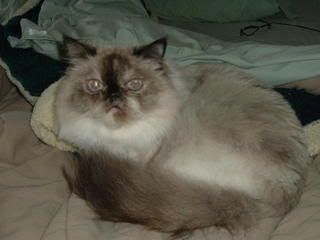 Kiki Passed away in February from a mass in her lungs. We had her from when Jofin and I were dating. She was 12 years-old.
Also, Little Bird died from being attacked by Lancelot. I had him longer than anyone else in our lil family. I wish I could find a picture. He was a Fawn Zebra Finch.
Chanko, Jofin's fish in Bahrain, will obviously not being going with us to Spain, but he is alive and well. Jofin is looking for someone good to take him over.
He will still be missed.