Are we there yet??? No. We are not there yet.
First, I will be spending most of November in Colorado where I get to spend some quality time with my nephew, Cole (see picture at bottom), Mom, Ernie, Grandma, Nessa, Nino, Clayton, and Steffy. He just turned 1 year old on Oct 2, 2007. I may be taking Nima, because he seems to be a problem doggie healthwise lately, and I am afraid to leave him with someone who just comes in a couple times to let him poop.
There, I will have Thanksgiving with the CO peeps, and fly home to meet John, who will probably come into California the Sunday after Turkeyday. God knows what the house will look like since I will have been gone. My guess is furry. Very furry.
I say "Hi John" and he says "Hi Jenn" then we immediately start throwing everything we can away, because in less than a week, the moving people will pack up nearly everything we own, and we will be left with some clothes and an empty house. And furr. Most likely.
It's Ok. We don't need furniture, because 2nd week of December there abouts, we are on the road again. Well, in the air again, flying to Texas to see my family there, then back to Colorado, so John can meet Cole, and we say our goodbyes.
The rest of December is seeing John's friends here in Orange County and his family in Tehachapi, which is where we will be for Xmas.
New Years will probably a friend shindig and more goodbyes, and very penciled in leave on Jan 8, because John has to report to the base in Rota Jan 10.
Of course all this is Navy-willing, which means it could all go poof at any time.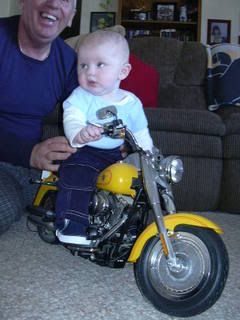 Cole is a Harley Dude